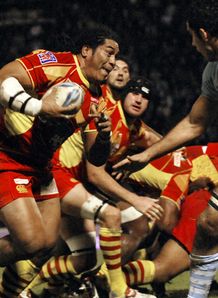 Related links
Also see
Any one of six teams could finish the weekend at the summit of the Top 14 standings as leaders Racing-Métro host Biarritz in Paris.
Coming off a run of three straight wins, Racing are the fourth team to lead the championship in seven rounds.
Just one-point behind the leaders, eye-catching Montpellier are the most likely to challenge for the top spot this weekend as they host minnows La Rochelle.
European champions Toulouse have yet to win on the road this term and face a tough trip to Brive while early-season leaders Bayonne host former champions Perpignan.
After a poor start to the season, Toulon could sneak into the top places with a big win away to struggling Bourgoin on Friday.
Castres face the toughest away game of the weekend as they travel to champions Clermont, who are in desperate need of a positive result.
Elsewhere, Stade Français will try to put a string of disappointments behind them as they visit Agen.
As a sign of now closely fought the French league is, an amazing 32 bonus points, 20 of which have been picked up for losing by less than seven, have been scored this season.
Fixtures:
Friday, September 24
Bourgoin v Toulon
Saturday, September 25
Clermont v Castres
Agen v Stade Français
Brive v Toulouse
Racing-Métro v Biarritz
Bayonne v Perpignan
Montpellier v La Rochelle
Standings:
1 Racing-Métro 23
2 Montpellier 22
3 Toulouse 21
4 Bayonne 21
5 Toulon 19
6 Castres 18
7 Perpignan 18
8 Biarritz 18
9 Clermont 15
10 Brive 15
11 Stade Français 15
12 La Rochelle 10
13 Agen 7
14 Bourgoin 6
________________________________________________________________________
Previews:
CS Bourgoin-Jallieu v RC Toulon
Stade Pierre Rajon, Bourgoin
Stone-last and with just a single win this season, Bourgoin are looking like the most likely candidates for relegation. After a heavy defeat in Paris last week, Les Berjalliens will be hoping that two consecutive home games can help them out of their current quagmire.
But against Toulon, who won in Bourgoin last season and beat the defending champions last week, the hosts face an uphill battle.
In toppling Clermont in Marseille, Toulon finally looked like a title-contenders we had expected to see. Their task is now to make up for the lost time and points succeeded in the opening rounds.
Toulon welcome back scrum-half Matt Henjak while wing Paul Sackey has been given a rest. Carl Hayman is given a starting place in the front row.
Bourgoin will have to do without captain Julien Frier, who is still recovering from a torn calf muscle. South African props Albertus Buckle and Ruaan Du Preez are also missing from the team sheet, as is hooker Olivier Milloud.
Results last season: Toulon won both games, 46-28 at home; 13-9 away
Prediction: Toulon are starting to find their rhythm. Toulon by nine points
Kick-off: 20:45 (18.45 GMT)
Referee: Romain Poite
________________________________________________________________________
ASM Clermont Auvergne v Castres Olympique
Parc des Sports Marcel Michelin, Clermont Ferrand
We've yet to see the best of the champions of France. Languishing in tenth place, Clermont have already lost four times this season (last year it them thirteen games to loss that many).
With the Heineken Cup two weeks away, it's high time les Jaunards hit their straps.
Castres have also struggled to deliver consistent performances, though last week's convincing win over Brive was a major boost for morale. If les Tarnais manage to cut down their error count, they could cause a few problems on Saturday.
Castres have been dealt a double blow in the second row: Matthias Rolland has a cracked eye socket and Kiril Koulemine has a sprained knee, ruling him out of the opening rounds of the Heineken Cup.
Results last season: 9-9 draw in Castres; Clermont won 25-19 at home
Prediction: Clermont are near-untouchable at home. Clermont by ten points
Kick-off: 14.30 (12.30 GMT)
Referee: Laurent Cardona
________________________________________________________________________
SU Agen v Stade Français Paris
Stade Armandie, Agen
There is a score to settle here. Agen fans will a remember the day - back in May 2007 - that Stade Français won 18-5 at Stade Armandie, relegating Agen to the ProD2 in the process.
Agen are in danger of finishing this season in the same fashion if they continue to give points away at home the way they did against Montpellier last week.
They can't blame their fly-half though since Conrad Barnard is the league's top marksman. The South African, who has been standing in for the injured Valentin Courrent, has slotted 90 per cent of his kicks at goal.
After losing to Brive by two points at the death a fortnight go, Stade Français went down by a single point in Perpignan last week.
Michael Cheika's team have not been playing badly, but need to buck the trend of disappearing in the second half. If the Parisians are top stay in contact with the other big clubs, victory is nonnegotiable.
Stade have made two changes to their side. Arnaud Marchois replaces Tom Palmer in the second row while Mauro Bergamasco joins the loose trio ahead of Antoine Burban.
Good news for SUALG is that loose forwards Opeti Fonua and Ueleni Fono have both recovered from knee injuries. Courrent, lock Andrew Springgay and full-back Brice Dulin are back after missing out last week.

Prediction: The Parisians should have too much firepower. Stade Français by ten points
Kick-off: 14.30 (12.30 GMT)
Referee: Cédric Marchat
________________________________________________________________________
CA Brive Corrèze v Stade Toulousain
Stade Amédée Domenech, Brive
Another team struggling for consistency, Brive were dominated in Castres last week. Down in eleventh place, les Corréziens will have to raise their game if they are to compete with Toulouse side gearing up for the Heineken Cup.
Winless in their three away games this season, Toulouse have nevertheless been gaining momentum, as confirmed by victory over early pace-setters Bayonne.
Thanks to a bagful of bonus points, Toulouse sit in third place in the standings despite have won the same amount of game as Perpignan, who lie eighth!
Brive shouldn't lack for confidence however having already beaten Perpignan and Toulon at home this season.
Toulouse lock Patricio Albacete is a non-starter while hooker William Servat is doubtful.
Coach Guy Novès has confirmed that Toulouse are negotiating with former All Black Caleb Ralph to come to France as a medical joker for Yann David.
34-year-old Byron Kelleher has also confirmed that he would like to stay in France.
Results last season: Toulouse won 38-0 at home; Brive won 27-21 at home
Prediction: Tough one to call. Toulouse's away form doesn't inspire confidence. Brive by three or four points
Kick-off:14.30 (12.30 GMT)
Referee: Pascal Gauzere
________________________________________________________________________
Racing-Métro 92 v Biarritz Olympique
Stade Yves Du Manoir - Colombes (Paris)
For the first time in 20 years, Racing are the leaders of the French championship. After easy wins over lowly La Rochelle and Bourgoin, les Franciliens need to turn it up a notch as a heavyweight outfit visits Paris.
A week before the Basque derby with Bayonne, Biarritz head to the capital looking to build on the confidence garnered from a rare win on the road (in La Rochelle last week).
Biarritz have given captain Imanol Harinordoquy and Magnus Lund the weekend off. Jerome Thion returns to the second row and Marcelo Bosch starts at full-back in place of Iain Balshaw, who has an ankle injury.
Winger Ilikena Bolakoro is also injured. BO continue to use star scrum-half Dimitri Yachvili sparingly, as he starts from the bench meaning young Adrien Ayestaran forms the axis pairing with fly-half Julien Peyrelongue.
Racing will be without Sébastien Chabal who is still recovering from a cracked rib. Good news however is that Frans Steyn has reaffirmed his commitment to the club, suggesting he is willing to put his Springbok career on the backburner to give all his energy to the club's cause.
Results last season: Racing won both games, 23-20 away; 29-22 at home
Prediction: Biarritz don't travel well enough to seriously trouble the leaders. Racing by seven points
Kick-off:14.30 (12.30 GMT)
Referee: Jean-Luc Rebollal
________________________________________________________________________
Aviron Bayonnais v USA Perpignan
Stade Jean Dauger, Bayonne
Bayonne's three-match winning streak came to a halt in Toulouse last week but the Basques certainly showed that they are serious contenders for a play-off spot this season.
The Basques will now attempt to bounce back against the 2009 champions, who have failed to live up to the standards of recent seasons.
Victory over Stade Français last week would have gone a long way to reassure Perpignan they they can still mix it with the top clubs.
The Catalans will be looking for their first win on the road this season, but will be missing a number of senior players including Nicloas Mas and Gerrie Britz. Farid Sid dislocated his shoulder last week and Guilhem Guirado has a fractured sternum, meaning neither will travel. Henry Tuilagi, Kevin Boulogne and Gavin Hume return to the squad however.
France international Lionel Mazars is back in the Bayonne midfield while Benjamin Boyet returns to fly-half after a rest last week. Rob Linde takes over from the injured Ross Filipo in the second row while skipper Rémy Martin is back in the staring loose trio.
Results last season: Perpignan won both games, 28-20 at home; 30-13 away
Prediction: It'll be close, but we've been impressed by Bayonne this term. Bayonne by five points
Kick-off:16:25 (14.25 GMT)
Referee: Patrick Pechambert
________________________________________________________________________
Montpellier HR v Stade Rochelais Atlantique
Stade Yves Du Manoir, Montpellier
After running rampant in Agen last week, Montpellier will be eyeing the top of the table when they host other new side in the championship.
One point behind the leaders, les Montpelliérains continue to surprise. Last weekend's bonus point win on the road in La Rochelle was further proof that their inconsistent ways of the past are no longer an issue.
Having already scores wins over heavy hitters like Racing, Perpignan, Toulouse and Castres, Fabien Galthié's team must be considered as serious contenders for a place in the Europe's top competition next season.
La Rochelle however are struggling, as most expected. Four straight defeats have left the newcomers on the edge of the relegation zone. Even a losing bonus point this weekend will be very welcome.
Montpol's goal-kicking Argentine wing Martin Bustos-Moyano and centre Geoffrey Doumayrou have both been ruled out with ankle injuries.
La Rochelle full-back Benjamin Dambielle has been given 20-day suspension for a high tackle while co-coach Serge Milhas was slapped with a 40-day touch-line ban for mouthing of to the officials.
Prediction: The hoists shouldn't be trouble much. Montpellier by fifteen points
Kick-off:20:45 (18.45 GMT)
Referee: Franck Maciello